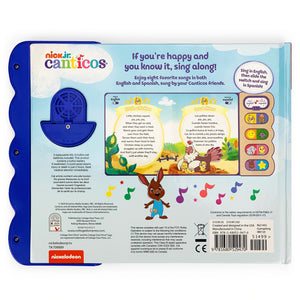 Canticos: Happy! ¡Feliz! (Bilingual)
If you're happy and you know it, sing along! Enjoy eight favorite songs, sung by your Canticos friends. Flip the switch in this bilingual song book to change from English to Spanish, and sing along again! Learn a new language with friends like the little chicks, Ricky, Kiki, and Nicky with Little Chickies, or Los Pollitos. Or maybe your elephant and spider friends, Benji and Lili, for Itsy Bitsy Spider, or La Araña Chiquitita. Join our bunny friend, Sammy, for If You're Happy, or Si Estás Feliz. Sing along with all of these and more. Sing with me! ¡Canta conmigo!
Canticos pairs classic nursery rhymes from all over the Spanish-speaking world with adorable animal characters to create educational music videos. Kids can learn simple vocabulary words, numbers, the days of the week, and more, in English and Spanish!
8 buttons play classic songs in English, then flip the switch to sing in Spanish
Bright illustrations engage little ones with the songs
Sturdy board book pages are perfect for little one to explore on their own or with their grownups
Collect all of the Canticos titles available from Cottage Door Press
ISBN: 9781680529470
9" w x 8" h
8 content spreads
wood inlay on sound module