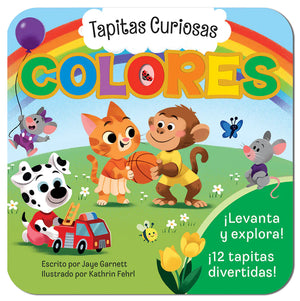 Colores / Colors (Spanish Edition)
Let's learn colors all around the busy town! Join in on the fun in the Red Tree House where everything is red, from fire trucks to roses. The Orange Store only sells orange things like basketballs or traffic cones. There are adventures to be had on every page, whether at the Blue Pier, strolling through the Green Street Market, or walking in the Purple Parade. This adorably illustrated peek-a-flap book explores every color of the rainbow, like red, orange, yellow, green, blue, and purple, and includes different words that apply to each color for kids to practice new vocabulary. Open the flaps in this colorful lift the flap book for even more fun surprises!
Sturdy, thick board pages

 

and

 

durable flaps

 

designed to withstand traditional wear and tear for curious little infants and toddlers.
Lifting the interactive flaps encourages sensory exploration and helps support the development of

 

fine motor skills

 

and

 

hand-eye coordination

 

in developing children.
Introduces toddlers and preschoolers to

 

colors

 

and

 

peek-a-boo

 

surprises!
Bright, cheerful illustrations

 

and interesting facts in these sensory lift-a-flap books for babies and preschoolers keep them entertained and engaged.
Explore the entire

 

Peek-a-Flap series

 

and other board books for your baby or toddler from Cottage Door Press.
¡Aprendamos los colores por toda la ajetreada ciudad! Únase a la diversión en la Casa del Árbol Roja, donde todo es rojo, desde los camiones de bomberos hasta las rosas. La Tienda Naranja sólo vende cosas naranjas, como pelotas de baloncesto o conos de tráfico. Hay aventuras en cada página, ya sea en el Muelle Azul, paseando por el Mercado de la Calle Verde o caminando en el Desfile Morado. Este libro de solapas adorablemente ilustrado explora todos los colores del arco iris, como el rojo, el naranja, el amarillo, el verde, el azul y el morado, e incluye diferentes palabras que se aplican a cada color para que los niños practiquen nuevo vocabulario. Abra las solapas de este colorido libro con solapas para obtener más sorpresas divertidas.
Las páginas de cartón robustas y gruesas

 

y

 

las solapas duraderas

 

están diseñadas para soportar el desgaste tradicional de los bebés y niños curiosos.
Levantando las solapas interactivas motiva la exploración sensorial y ayuda a apoyar el desarrollo de las

 

habilidades motrices afinadas

 

y

 

la coordinación ojo-mano

 

en los niños en desarrollo.
Introduce a los niños pequeños y a los preescolares a

 

los

 

colores

 

y al

 

cucú.
Brillantes y alegres ilustraciones

 

y hechos interesantes en estos libros sensoriales con ventanitas para levantar ayudan a que los niños mantengan compromiso.
Explore toda la serie "Peek-a-Flap" y otros libros de cartón de Cottage Door Press para su bebé o niño pequeño.
Spanish Language Edition